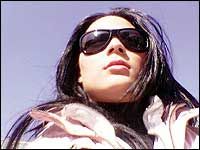 First posted 09:27am (Mla time) Mar 19, 2005
By KC Concepcion
Inquirer News Service
Editor's Note: Published on page H1 of the March 19, 2005 issue of the Philippine Daily Inquirer
THINGS looked warm behind a pair of rose-colored-flea-market lenses on Valentines month. Yes, I did blow through days alone hiding behind the disguise of artificial vibrancy, throwing caution to the wind despite the semi-icy cobblestone streets of the city.
This was to be the first time I were to spend the month of love with only the company of some mushy OPM music, and a family of healthy pigeons who had their own baguette-crumb fiestas around my feet as people rushed in and out of boulangeries to prepare the munchies for their romantic feasts.
Valentine's day itself was the day that I unintentionally set up to be exceptionally for Me, for which my thoughts darted from one arrondissement to another in sheer delight. Although I would have liked to have a male companion spend some time with me to feel slightly more feminine (I can't decide whether to blame or thank my kuyas for robbing me of the word 'dainty') I just had so many things in my head that day that the poor thing would have probably ended up jumping into the River Seine hoping to be saved from some highly emotional blabber!
Which got me thinking... If one likes to THINK intensely, it does not necessarily mean one would SPEAK intensely. But if one does happen to LIKE talking, sometimes, that's just the way you process your thinking. And spontaneous thoughts, as well as blabber, might never make it to The Economist, but may be placed in a corner somewhere like this one (for example), not merely because of the name of who is writing it, but because life is known by everyone, processed in the heart and mind in different ways, and in a journey like yours, there will always be that wish for that somebody to take your hand along the way.
For temporary senselessness to serve the art of laughter and to relish your version of the good life, or for world-moving moments, and whatever else an experience is worth, you hope that there will always be someone who'll say "I know how this feels" and prove they actually mean it.
Is this why people like to live their own publicly private corners in cyberspace?
The universe of Blog is enormous. Topics range from complex footwear engineering to painful broken toenails; life at war to death in the streets.
There are escapists, critics, soldiers, rockers, professors, feminists, lovers, hackers,15-year-olds going on 25, or 43-year-old beach bums regressing to adolescent mode. Live journals are everywhere, and every day people post a piece of them onto a computer screen for everyone to see.
Do we do this just because it's fun? Or because, whether it be to drown in tears or take a chunk of something fabulous, we don't want to be doing it alone?
For all we know, we might be marketing something to ourselves, as much as we are to others. It might be for the literal reason of selling something to make profit, or just because you desire to create a story through which you can see everything for more or less than it really is.
A scratch on the lens
Some people may look through a pair of pink glasses and think "well this is ridiculous. Who would want to see in monotone?"
Maybe others would say "there's a scratch on the lens." Or there may be people who might just like to let themselves go into this motion picture of pink that has them watching the world for a while without actually needing to exist in it.
Whatever it is, there has got to be a reason why we might take part of our privacy and encourage the public to take a bite. Whatever happened to having a handful of close friends to tell everything to? Are computer screens really beginning to replace soul or is this a way to take more from the outside to bring more to the inside?
"I've learned to let go of my camera, and stop experiencing things in pixels. I wanted to be in the moment and live in it with all senses," a friend once said.
Both the Filipino and the French have this natural focus on food and drink as a way of socializing and staying in touch. But the difference is that, if a Filipino fete thrives in the more the merrier idea of a classic social-circle bonding session, the French seem to be more collectively intimate.
And though not all things are what they seem, it's true that a girl on this side of town will most likely have a much smaller living space than others, which makes a fete seem like you've just stepped into a luxurious chocolate commercial. And no matter how broke or 'poor' she is, get-togethers will always happen for the sake of keeping a type of bond, and I'm always curious how elaborate parties are thrown in even the most cramped apartments that are up at the top floor in a building with no elevator.
Sensual liberty
Things are also always done with style, as is a live journal-but the French way is to choose how much intimacy to let into the space by meddling with design and by necessity. This becomes the space where everybody begins to eat at the same time (encouraged to eat more than the one beside you), where there is a sensual liberty for the music down to the cigarette smoke in the room, and where what you do for a living is never an important part of the conversation (a faux pas even for good friends).
In a corner you will find two friends that have just met, talking about the latest football match with a cocktail in hand, in another, a group of three that are both agreeing and disagreeing on the value of a film or novel (value meaning both production and price), and the hostess' petit pooch resting on a pillow by the front door, exhausted from having gone around to socialize with guests earlier in the evening.
You will also find that a woman here is probably less afraid of getting old, and that she never wants to give much of herself away when it comes to dealing with potential love.
There is never a need to define things up front, allowing things instead to evolve genuinely and naturally. She has a sensual relationship between her body and the food she brings to it (she can have a modest three-course meal and a glass of champagne all alone); between her ideas of politics and culture, between her grandmother's pair of earrings and her own simple hairstyle.
In this space, everything is warm and genuine. And it doesn't take a whole lot of people or limitless electronic space to find it.
By the end of the month, despite the fact that, STILL, this modern world of technology found a way to make me come home with a memory card that stubbornly stepped out to capture la vie (quite literally) en rose, seeing a splash of pink to warm up the white city mood (temperature really does affect disposition!) without having to hide behind the disguise of bright, pre-mature Spring colors was much needed.
So much love
I no longer felt so alone despite having nobody's hand to defrost with my own. There was so much love and warmth in everything-two little girls bonding over a toy top (hardly ever seen anymore in familiar households), two sleepy, mixed-breed brother pups resting intertwined with each other in a pet shop, a pigeon basking in the March sun, a Filipino couple walking from China Town with a bag of ingredients that looked hilariously familiar (think Kare Kare or Sinigang) or even in the thought that the timely crustacean death of Bubba the Lobster made it on the MSN news!
Although the tremendous trails of thought scattered all over the web might never make it on traditional newspapers, anyone's entries are equally worth being paid attention to.
No matter what is being said, there is a reason behind the gesture, and for us to listen to each other, as well as listen to ourselves-what your body is trying to tell you, or what your brain is pushing you to think, or what your heart is trying to get you to feel-is to stay connected.
Old-fashioned
Although live journals are an interesting way to keep track of friends, life and times, there is still that old-fashioned manner of living that does not at all require the help of a computer.
Don't forget that you are free to do whatever you want with your space outside of a machine, where everything is just fabulously tangible. Where you get wrapped within the hug you once asked for, where the birds fly up high and come back down to feed, where you FEEL the chuckles and HEAR the heart that has fallen in (or out of, God forbid) love.
Knowing what's going on in each others lives reminds us that no matter where we are, who we are, or what we have become, we are all human, sharing the same messy, beautiful, twisted world where whatever floats one's boat will be that, which rocks one's cradle.
wish upon a silver cloud .:::. crawling across the moonbeams