YES! Magazine, June 2002
MARCH 22, FLIGHT TO PARIS. Sharon and KC left Manila for Paris in a cabin suite. The last time they went out on a girl-bonding trip was 1999 when they flew to San Jose, California.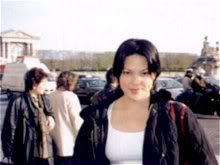 At Place de la Concorde. To her right is the Champs-Elysées.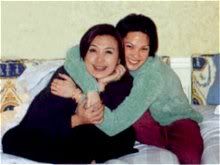 Inside their hotel room, mother and daughter ended the day with a "tight squeeze."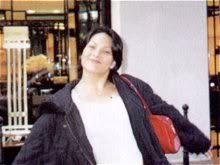 KC at Coco Chanel's first store
At Castle Café near the Eiffel Tower where they sipped hot chocolate and Viennese coffee.
MARCH 23, EIFFEL TOWER. Mother and daughter arrived in Paris at 5:10 a.m. Obviously, they took turns having their pictures taken at the foot of the Eiffel. Says Sharon, "KC and I wanted to go up but they were servicing the other elevators, only one was working, weekend kasi, punong-puno ng tourists.
MARCH 24. "Kami," says Sharon, " we're so mababaw. Actually we just breathe in and take in all that's happening around us. There wasn't much to buy because it was really cold and, you know, she does stuff for Human... that she passes on to Mama, and some, Mama is still waiting to fit into. And you know, I have so many clothes in my movies. There's no need for us to really go out and buy clothes like crazy.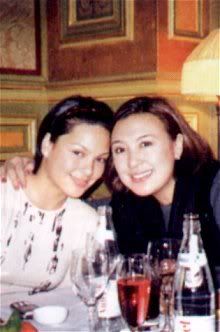 "Diner with my baby." They had dinner in Costes, a restaurant near their hotel. "Everyone makes a ceremony out of dining, out of a meal, so kahit kape lang 'yan o ano. Hindi sila fast food masyado. French sila e. We just wanted to take that in 'coz we couldn't do these things in Manila or anywhere else. Mag-sidewalk cafe, puro pollution, hindi ba? Doon uso, doon naggaling. So parang we just wanted to experience all those things that we can't really do here."
Sharon told KC: "You have to see how cute those stores are, they sell crepes off the streets." When KC finally saw one, she screamed, "Mama, crepes!" Says Sharon, "Happing-hapi kami." KC ordered strawberry crepes and Sharon, who describes herself as a "chocolate girl," had banana nutella.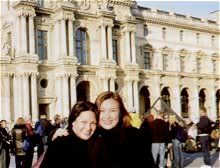 MARCH 25. Facade of the Louvre Museum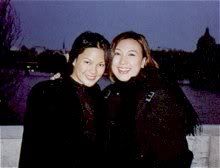 A gentleman was kind enough to take their picture on the River Siene.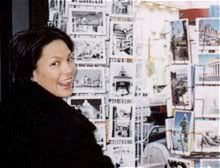 KC buys postcards for her collection.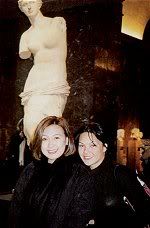 Sharon and KC posing in front of Venus de Milo.
Mother and daughter at Place Vendome before going to Louvre.
MARCH 26, REST DAY. Playtime with jasmine flowers following dinner at Le Reconfort. Mama Sharon is thrilled her daughter speaks French with, say the natives, "good accent." But she is even more thrilled whenever KC says "she's my mother" in French and everyone within hearing distance gasps in disbelief.
Not-so-small-baby-KC with Mama. The French provincial decor of this hotel so attracted Sharon, she had her picture taken by the amused owner.
MARCH 27. Last day in Paris. Sharon and KC finishing their Cappuccino Steak Frittes and Banana Split at La Coupe D'or St. Honore´&e;. They were scheduled to leave Paris for Bangkok at 10:44 p.m.